Dave Sabo Biography
Dave Sabo born Michael Sabo, nicknamed "The Snake", is an American guitarist who plays in the American metal band, Skid Row. He is co-guitarist with Scotti Hill.
Age
Dave was born on 16 September 1964, Perth Amboy, New Jersey, United States. He is currently 58 years old.
Height
He stands at a height of 5 feet 9 inches
Dave Sabo Image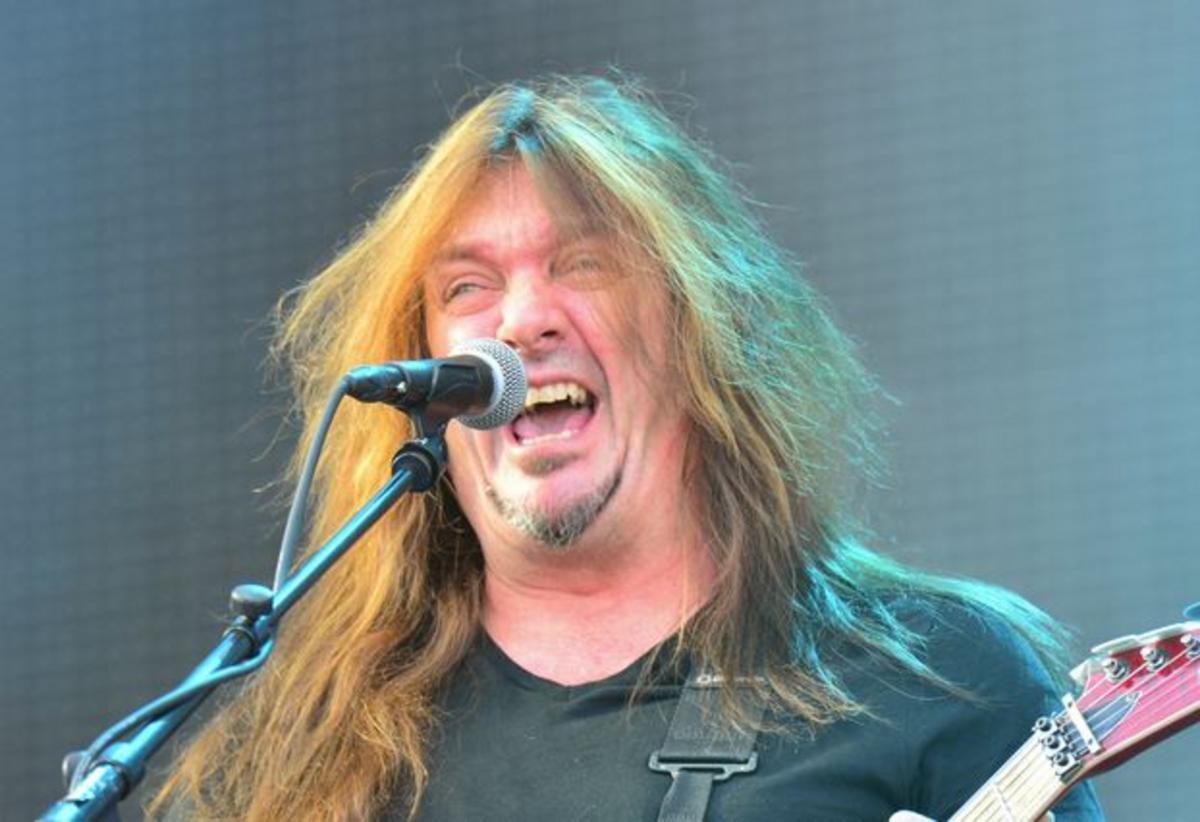 Dave Sabo Wife | Married
Tina Norris and Dave 'The Snake' Sabo are married.
Read also; Joe King (Guitarist) Bio, Age, Height, Net Worth, First Wife, Children
Skrillex (Dj)Bio, Age, Songs, Albums, Mix, Instagram, Twitter and Music Vidoes
Mason Ramsey Bio, Age, Parents, Net worth, Famous, Walmart, Tickets, Tour
Dave Sabo And Bon Jovi
He began playing with Bon Jovi in 1983. A childhood friend of Jon Bon Jovi, Sabo agreed to a short three-week tour to support the demo version of "Runaway" which became a surprise New York City-area hit in 1983. Soon afterward, Richie Sambora replaced Sabo in Bon Jovi.
Dave Sabo Skid Row
Skid Row is an American hard rock/heavy metal band which became one of the flagship bands of the late 1980s hard rock scene. They were one of the most successful hard rock bands of the era until they were eclipsed by the Seattle grunge bands in the early 1990s.
The band was not named after Gary Moore's first band, Skid Row.Skid Row was formed in New Jersey in 1986 by Bolan and Sabo.
The pair added guitarist Scotti Hill, drummer Rob Affuso, and vocalist Matt Fallon who was later replaced by Sebastian Bach in 1987. The band began playing shows in clubs throughout the eastern United States.
With the assistance of friend Jon Bon Jovi, Sabo secured a record deal for Skid Row with Atlantic. In 1989, the band released their first album, Skid Row, which was an instant success, mainly due to power ballads.
The record went multi-platinum and produced the hit singles "18 and Life", "I Remember You" and "Youth Gone Wild". Skid Row turned in a heavier direction on their #1, double-platinum follow-up 1991 album. Sabo has worked as assistant producer on many of the band's songs.
Sabo composed music for the 2006 film The Still Life.
Kryst the Conqueror
Sabo played lead guitar on the track "Trial of the Soul" in the band Kryst the Conqueror with featuring former members of the Misfits.
Sabo is credited under the pseudonym "Kryst the Conqueror" as he was under contract to Yngwie Malmsteen and forced to remain anonymous
Dave Sabo
Anthrax
Sabo was briefly a touring guitarist for Anthrax during their "Attack of the Killer A's" tour
Dave Sabo Website
To interact with his website Click Here
Dave Sabo Twitter
Dave Sabo Instagram
https://www.instagram.com/p/BvhHvqxl67O/?utm_source=ig_web_copy_link
Dave Sabo Interview
Updated: September 30, 2018
Multi-platinum selling band SKID ROW will embark on a full Australian tour this October whilst also hitting Auckland New Zealand. It will be the first time Australian fans get to see former Dragonforce singer ZP Theart up front. Guitarists Snake Sabo & Scotti Hill will also join him, bassist Rachel Bolan and drummer Rob Hammersmith. We caught up with Snake during some time in Nashville to discuss the upcoming tour. Working with ZP and also the final release in the United World Rebellion trilogy.
Melisa: Skid Row will be touring in Australia this October. The first time with the new singer and forgive me if I pronounce this wrong, ZP Theart?
Snake: Right, good!
Melisa: How have fans been reacting with the new singer?
Snake: Well I'll tell you what, he has been in the band now for over 2 years and it's been pretty incredible. Moreover, it seems that the more we play and the more we're visible and more people know that he's in the ban. This is the five of us, this is Skid Row, nothing's going to change, when people are comfortable with that, the reaction has been phenomenal.
There's a lot of reasons for that, he's just a really great singer but he's also very cognitive of the history of the band.Besides, he's really respectful of the songs that were created before he joined the band. Too, those songs that he sings every night and is very respectful of that history.
ZP and Skid Row
The thing about ZP that I love is that he's so the opposite of a self-centered individual. It's not what Skid Row can do to make ZP a bigger star, it's what can ZP do to make Skid Row a better band. And how can we all work together to make this as great as it can possibly be. That gang mentality of I got your back, you got mine, we all got each others is really vital for us as a unit.
There's no agendas, no drama and it's all about being able to create the best possible Skid Row in 2018 that we can. There's no ego involved, it's not like I have to have my idea above everybody else's. It's about what works best for this band and for us as a group.Hence, that's really refreshing because you know there's nothing underhand going on.
Like I said, no hidden agendas and so you're not walking into a situation or walking into rehearsals or walking into a writing session with your guard up. You walk in and go, 'Oh my gosh I can't wait to see what we come up with today', because you know it's coming from a place of purity. Again it's about the end result and not about individual accolades.
Melisa: Well that is amazing because you don't really see that a lot these days, even outside of music everyone just seems to be out for themselves these days so I find it so refreshing to hear that you have found a singer that has those ideals and morals and just wants to get on with the job.
Snake: Yeah because when you first start a band that's what it's about! When we started a band it was 1986 for god's sakes so just the sheer fact that we're still around some 32 years later, it's incredibly humbling but it also shows the tenacity of who we are as individuals.
To last as long as we have we have to be able to put your own ego aside for the greater good of group and that's what we've done and it also has to be an enjoyable experience, you gotta love doing what you are doing and love the people that you are doing it with.
A lot of other people in other bands like to add, 'No you don't need to get along with the people you are playing with', that is just too hard.
This is what we do for a living every day so you want to enjoy being around those people, it shouldn't be a miserable experience.
Yeah there's arguments and there's hard roads and stuff like that but if you all have the same goals in mind and it's about the whole as a band as opposed to your own ego, then you are able to persevere forward.
So for us that's been the key ingredient for us to keep going is to love what we do with the people we love to do it with.
Melisa: Absolutely! So what can fans expect on this tour? You've touched a little bit on how ZP respects the older songs like "I Remember You" and "Youth Gone Wild", are we expecting some of those classics?
Snake: Of course, absolutely. We have to, you have to respect your audience and we are proud of our history, how can we not be? On a ride this long there's a myriad of reasons why and one of those reasons is the body of work that we've been able to create through out the years.
I love playing "Youth Gone Wild", I love playing "18 And Life", I love playing "Monkey Business" and the reason being is because they are all special but those are the heart of a storied history and for us. You have to recognise that and respect it and we pay homage to it.
Melisa: I also hear you are gearing up to release the third and final part of the "United World Rebellion" trilogy, how is it shaping up and do you have a release date yet?
Snake: Not a release date per say but it's going to be probably the beginning of summer next year. I'm actually in Nashville right now with Rachel writing but our tour schedule as such that we're doing things differently these days, we're playing well over a hundred shows a year and so the way it used to be is you write a record, you record a record, tour a record, you come home and take a 5 minute break and then you write a record. It's not like that for us anymore, we're writing a record in between tour dates and things like that.
It's just a different way to do this with the way the business is, that's the schedule that we keep now. Getting used to that is different, not impossible but just different so this week we are writing more songs and we're not quite there yet but we're close. We're going to record with Michael Wagner here in Nashville hopefully in the beginning of the year.
Melisa: Oh excellent! Will you be testing some of the new material on fans this tour or will you save it for the release?
Snake: We haven't spoken about that but we probably will at some where we get close enough to feeling really comfortable with playing some of the newer material, which just means we have to jam on it more really.
What we've done right now is we've got a couple with us where we've been able to go into the studio with Michael Wagner and just jam on a bunch of new stuff and things change when we start doing that and so getting used to the different changes and then to be able to pull them out in a live setting to see how they feel.
I'm sure we will be able to do it at one point, I don't know if that will happen in Australia. I would love to but I'm not placing any bets that it will happen.
Melisa: Sure! So given that you have been successful over a few decades now, you've touched on what contributing factors that may be with the the general attitudes of everyone in the band coming to do the job instead of the ego.
What do you think are some other contributors to the bands success to continue on through a few singers and still being out there and still being relevant?
Snake: Humility, being able to recognise and realize that what we get to do for a living is an absolute gift. It's by no means a birth right, it's a gift and we say that on stage virtually every night, that it's a privilege to be able to go out there and perform in front of any group of people that recognises and gives their time to celebrating music with us. There's great humility there, trust me, from our end.
Melisa: You don't get that from bands these days, especially the bigger bands. I find they do tend to forget about fans sometimes.
Snake: I'm not really privy to any other band's and their inner workings and all of that, I just know that for us that before we go on stage we just look at the other 4 guys regardless of what person in the band you are. You look at the other 4 guys and it's like, 'Oh man ok, we're ready.
We have a job to do, a job that we want to do, a job that we respect and that we're thankful for that we get to do'.It's really important. One thing I can tell you that we can never be accused of is going through the motions, that's one thing.
Accuse us of other things, whatever, but that's one thing you can't. We don't mail it in, if we're having an off show or whatever, we're frustrated. Frustrated with ourselves because it's important to be on top of our game every night and we've always lived by the notion that you know what? You're only as good as your last show so you better make it a great one and that's a mentality that has allowed us to persevere.
Melisa: What advice would you give bands starting out?
Snake: Don't allow mediocrity to have any place in the band. Don't settle for songs that are just OK, dont settle for OK performances, don't settle for just being good because good is not good enough.
I think that by and large, we have higher standards for ourselves, as people and as professionals. Have higher standards and be accountable for who you are, there are no shortcuts. If you make a shortcut, trust me there's going to be a fall off point somewhere and you are going to have to climb your way back up if you are built for it.
Melisa: That is awesome advice! Thank you so much for talking to us this morning Snake.
Snake: Oh my pleasure! Thank you for taking the time to talk with me, I really appreciate it and we will see you in October!
Adopted from: therockpit.net
Last Updated On:31st January 2023