Jeannette Wing Biography
Jeannette Wing is an American Avanessians Director of the Data Sciences Institute at Columbia University. This also where she works as a professor of computer science. Additionally, she was also the Corporate Vice President of Microsoft Research with oversight of its core research laboratories around the world.
In 2013, she was made the President's Professor of Computer Science at Carnegie Mellon University. She also served as an assistant director for Computer and Information Science. In her academic career, Wing earned her S.B. and S.M in Electrical Engineering and Computer Science at MIT in June 1979. At that time her advisers were Ronald Rivest and John Reiser. Later,  She earned her Ph.D. in Computer Science at MIT under John Guttag.
Jeannette first began her career first as a member of the faculty at the University of Southern California from 1982 to 1985. Moreover, She also served as the head of the Computer Science Department from 2004 to 2007. However, She quit the work in 2012. From there she took a leave from Carnegie Mellon to work at Microsoft Research. Furthermore, Jeannette has also been a leading member of the formal methods community, especially in the area of Larch.
 Age
She was born Jeannette Marie Wing in the USA. However, she has managed to keep her personal details all to herself. Also, she has not revealed any detail about her current age or Date of birth.
Jeannette's  Husband
There is no current information about her past relationship life or even her current Relationship status. She has managed to keep it away from the public as far as possible.
 Data For Good
Jeannette Wing on Developing 'Data for Good' From filter bubbles to fake news, data-driven algorithms have developed a reputation problem. Although she wants to change that. As the new director of Columbia's Data Science Institute, she has woven ethics and social impact into the Institute's mission.
Jeannette Wing photo.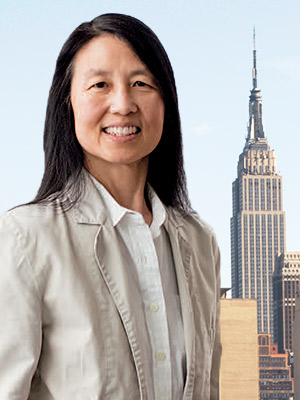 Jeannette's Computational Thinking Definition
Computational Thinking is the thought processes involved in formulating problems and
their solutions. So that the solutions are represented in a form that can be effectively
carried out by an information-processing agent
Jeannette Wing Publications
Jeannette's most recent publications include J.M. Wing, J.P.C. Woodcock, and J. Davies (editors), Proceedings of FM'99: First World Congress on Formal Methods in the Development of Computing Systems, Toulouse, France, Springer-Verlag, LNCS 1708 (Volume I) and 1709 (Volume II), 1999.
Jeannette Wing Net Worth
Wing's estimated net worth is still under review. However, it was established that she is earning quite an amount of worth from her work as a professor and as a member of the faculty at Columbia University.
John Guttag Biography, Age, Wife, Google Scholar, and Net Worth.
Kareen Wynter Biography, Age, Family, Married and Net Worth.
  Jeannette Wing News
Jeannette Wing on Developing 'Data for Good'
From filter bubbles to fake news, data-driven algorithms have developed a reputation problem. Jeannette Wing wants to change that. As the new director of Columbia's Data Science Institute, she has woven ethics and social impact into the Institute's mission. Her vision comes amid a backlash over the tech industry's use and misuse of consumer data and a broader shift. The exponential growth of digital data, and tools to harness its power, have disrupted much of society, from our economy to our politics.
An accomplished computer scientist, Wing sees a critical leadership opportunity for Columbia. The Data Science Institute was founded six years ago at the Engineering School. But with her arrival last summer, it became a stand-alone entity. From this elevated platform, Wing has called on social scientists and humanists to work with data scientists to ensure that data is used responsibly and for society's benefit.
"Who best to help, but people who think about ethics and social norms?" she says. The campus has embraced her challenge.
Data Science.
"The Data Science Institute had to begin in Engineering. But to realize its full potential it couldn't end there," said Matthew Connelly, a history professor, and Institute member. "Data science will eventually be a part of education and research across the entire academy. All the more reason we need to consider ethics and how data science will shape, and be shaped by, history, law, public policy, and so on."
In an uncluttered office with floor-to-ceiling views of northern Manhattan, Wing sat down recently to review her first year at Columbia.
Writing longhand in an old-fashioned notebook, she sketched out her plan for building "a cadre of data scientists" to meet the rising demand on campus. She has recruited three types: applied data scientists to serve the University at large, domain-specific faculty, and postdoctoral researchers to bridge data science and a domain.
She has also launched a summer internship program that matches data science students with faculty research projects. In addition, she has doubled the Institute's seed funding for high-risk projects. One such gamble pairs a computational linguist with an astronomer in a hunt for "grammatical" rules that explain how planets form.
Computer science.
Her unconventional approach is reflected in her enthusiasm for other universities opening competing data science institutes. This spring, she invited 60 of her peers to Columbia to share best practices. "I want people to look to us as a leader in data science," she said.
Today, the field remains as poorly defined as computer science was in the 1970s when Wing was studying at MIT.  Though she had planned to follow in the footsteps of her father, an electrical engineering professor and department chair at Columbia, a required computer science class seized her imagination. After finishing her bachelor's, master's, and doctoral degrees in computer science at MIT, she eventually joined Carnegie Mellon University as a professor and later chair of its renowned computer science department.
Later, she held executive positions at the National Science Foundation and Microsoft Research where she became known for embracing audacious ideas. At Microsoft, she launched an Expeditions Program modeled after the one that she created at NSF. As a result, it led to a new application for drones as a crop monitoring platform and a smart mosquito trap. The trap uses machine learning to identify species by the flap of their wings to more quickly detect the spread of Zika and other mosquito-borne diseases.
Computational Thinking.
In an influential 2006 essay, "Computational Thinking," Wing argued that the abstract thinking required in computer science is fundamental to all problem-solving. Much of her own research has focused on cybersecurity and privacy, including work automatically generating examples of potential cyberattacks and building scalable tools to detect violations of privacy policies.
As a leader, Wing has had unusual success getting creative, independent thinkers to work as a team. One of her secrets was revealed at a faculty retreat last fall when she proposed a game of charades. "For a few seconds I thought she was joking," says Chris Wiggins, an applied mathematics professor, and Institute member. "But then I thought, OK! I'm about to learn a lot about Jeannette's collaborative style."
The group agreed on a definition for data science before the following day. The study of extracting value from data. They drew up a list of socially relevant "quests" to tackle—from detecting the spread of disinformation online to motivating healthy habits by merging personal, genomic, and environmental data. Thus, helping cities adapt to a warming climate. Wing's hope is that solutions to complex problems can be found if experts across disciplines identify and rally around a shared goal that can benefit society.
Adopted from Columbia News