Mason Ramsey Biography
Mason Ramsey is a young American country music singer. He became famous due to his video yodeling Hank Williams' "Lovesick Blues" in a Walmart went viral. Due to this video, he was signed to Big Loud Records in 2018. He has currently released his debut single "Famous".In 2022,Mason's song 'Before I Knew It' from his 2019 EP Twang gained popularity on TikTok after he used it to update his followers about his life revealing he now works at Subway.
How old is Ramsey?
Mason was born on the 16th of November 2006. He is 16 years old as of 2022.
Who are Mason's Parents?
Mason was born and raised in Illinois, US. He started living with his paternal grandparents when he was only three weeks old.
His partial grandparents are Ernest M. Ramsey and Frances Ramsey in Golconda, Illinois. Apparently he has an older sister, but her name is not known to the public.
Mason Ramsey Lovesick Blues
The information from Mason's grandfather suggests that he even began singing before he could talk. While he was young, he locked himself in the basement and would spend hours listening to Hank Williams's songs. Apparently,Hank is his favorite musician.
Furthermore, the initial song that he tried to sing was Hanks's'Long Gone Lonesome Blues. At a very tender age of four, he had already performed for Josh Turner at the Carson Center.
Related article; That Girl Lay Lay Biography, Age, Family, Career, Songs And Net Worth
Michael English Bio, Age, Family, Education, Career, Wife, Children, Nationality, Net Worth, Awards, Songs
Enrique Iglesias Bio Age, Net Worth, Career, Wife, Songs
Mason Ramsey Photo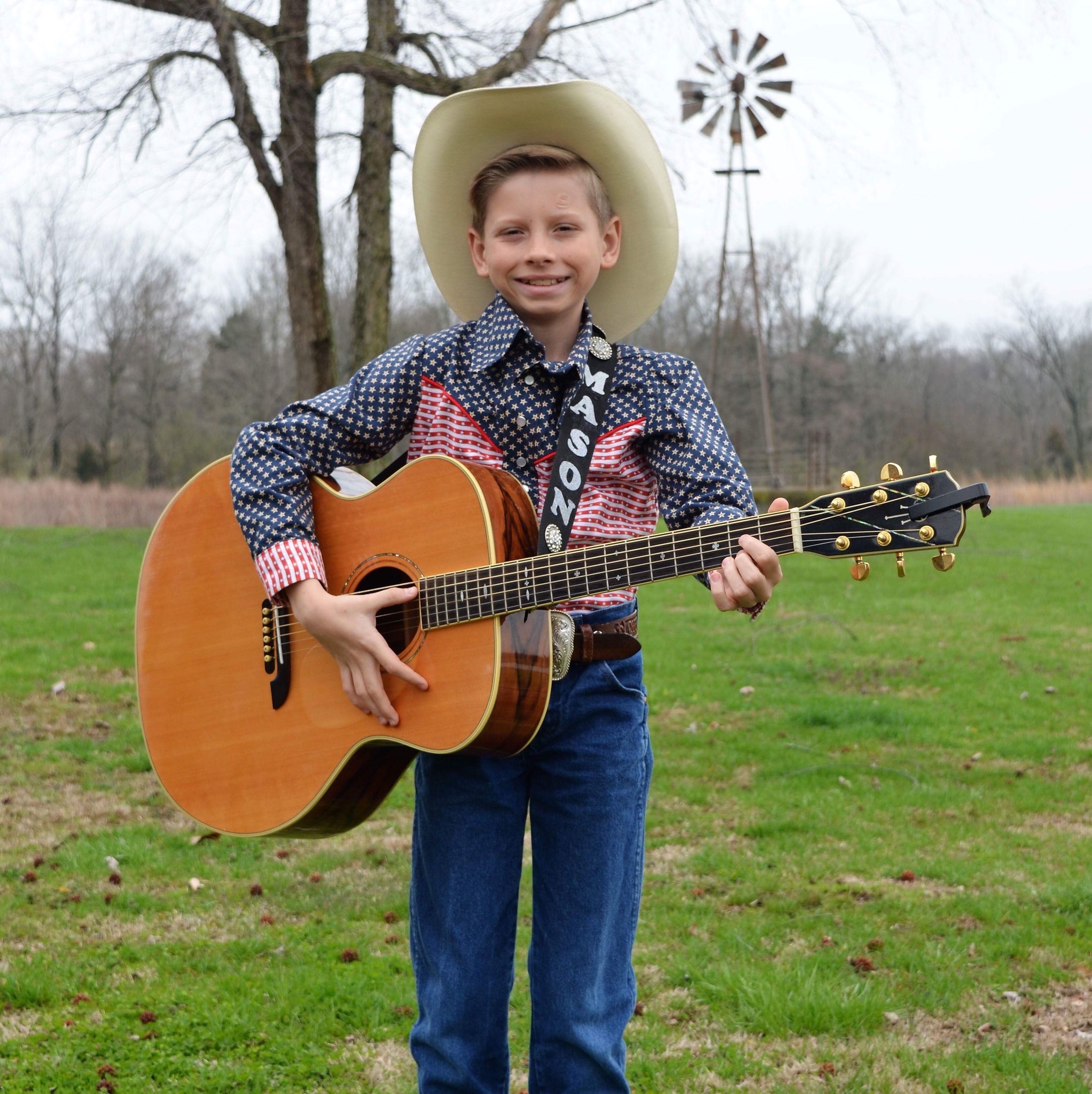 Surprisingly he was open for Gene Watson when he was five years old.He picked up his guitar at the age of six. And at seven Mason was already performing with Kenny Rogers on a Christmas TV Show.
Ramsey Walmart
In early 2018 Mason Ramsey was captured on camera singing "Lovesick Blues" in a Walmart store in Harrisburg, Illinois.
At the time he was only 11 years old. Within a few days, videos of his performance had gone viral and garnered over 25 million views.
Therefore, Ramsey's performance sparked a new interest in Hank Williams' 70-year-old recording of the song.
In that year Rolling Stone reported that Spotify's Viral 50 chart for the U.S. ranked Hank Williams' "Lovesick Blues" at number three, and number four around the globe.
Mason Coachella
Due to his newfound publicity, Ramsey made an appearance on the Ellen DeGeneres Show. While on the show he revealed that, his dream was to appear on Grand Ole Opry one day.
DeGeneres organized a surprise for Ramsey and he was booked for the following weekend. On April 13, 2018, American DJ Whethan brought Ramsey out during his set at the 2018 Coachella Valley Music and Arts Festival in Indio, California.
He signed a record deal with Atlantic Records and Nashville-based label Big Loud in April 2018.
Mason Ramsey Famous
His debut single "Famous" topped at number 62 on the US Billboard Hot 100. While his EP debuted in the Top 10 of Billboard's Heatseekers Albums topped at No. 7.
Ramsey performed iconic No.1 songs on Billboard Hot 100 Chart's 60th anniversary starting from the 1960s he sang hit songs by Mariah Carey, Billy Joel, Paul McCartney, Stevie Wonder, Celine Dion, The Monkees, The Jackson 5, Whitney Houston, Beyonce and Adele.
Mason Ramsey Famous Lyrics
Atlantic and Big Loud Records released Mason's debut single: "Famous" on April 27, 2018, Records. Tyler Hubbard, Corey Crowder, Sarah Buxton, and Canaan Smith were the writers and producers of the song. Later, it was serviced to country radio on April 30
Mason Ramsey Meme
An internet meme is usually referred to as just a meme. It is simply put an activity, concept, catchphrase, or piece of media that goes viral on the internet.
It is usually a mimicry or for humorous purposes, from person to person through the Internet. An Internet meme usually takes the form of an image, GIF or video.
It may be just a word or phrase, sometimes including intentional misspellings or corrupted grammar.
Ramsey's Net Worth
Ramsey has a YouTube channel with many followers. His YouTube channel brings in an annual income that ranges from   $21,000 to $336,000.
Moreover, since his celebrity status was achieved in Walmart, the retailer decided to provide him with a scholarship for his college tuition in the future worth  $15,000.
Additionally, All these sums his total estimated net worth at $1 million in 2022.
Mason Ramsey Tickets
According to various sources including ticketmaster.com, Mason Ramsey's tickets ranged from $ 10.00 to $ 37. oo.
Mason Ramsey Tour
In the previous year Ramsey toured across various states in America. Among the places he covered included,
Apr 24
Exit/In
Nashville, TN, Us.
Apr 26
The Rave/Eagles Club
Milwaukee, WI, Us
Jul 11
Country Boom Music Festival 2019
Country Boom
West Salem, WI, Us
Jul 13
Sweetwater Performance Pavilion
Fort Wayne, In, Us
Sep 14- Sep 15
Hometown Rising Country Music & Bourbon Festival 2019
Kentucky Expo Center
Louisville, KY, Us
Apr 25
Brick Street Bar
Oxford, Oh, Us
Jun 09
Cma Fest 2019
Nashville, TN, Us
Jul 12
Country Boom 2019
La Crosse, WI, Us
Sep 14
Peoria Riverfront
Peoria, IL, Us
Last Updated on:29th December 2022.